Mobile Training - Anywhere In Ireland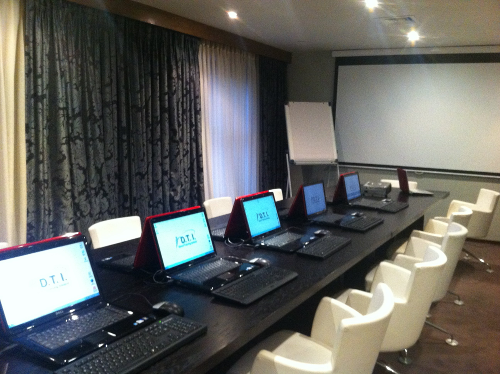 Direct Training Ireland can set up a training centre on the clients premises in any suitable room, in any part of Ireland - all we need are tables and chairs. This ensures that courses can be held on-site for most clients. This reduces costs for the client and ensures that key personnel are kept on-site.
Each learner is provided with a laptop with attached keyboard and optic mouse. All laptops are networked wirelessly with the tutors laptop and with printing and internet broadband* facilities.
The tutor works from a laptop which has a data-projector connected. All the facilities which a client would expect from a modern computer training centre are available from D.T.I.
● Individual laptops
● Full sized keyboards
● Optic mouse
● Data projector
● Screen
● White Board
● Wireless Printing
● Wireless Broadband*
While many clients have the use of a computer training room in their organisation many others have to struggle to find the facilities and resources for a computer training course. Direct Training Ireland provides these resources at no extra charge to the client.

The client also has the option of attending any course in an off-site location close to their organisation. This has several advantages to most clients and also gives the participants the opportunity to attend a course away from the office.
Direct Training Ireland will set up the training centre either in the clients premises or in a local hotel meeting room. Course in off-site locations come with refreshments and lunches where required.
We will never train more than 10 people at a time on any of our computer courses. In reality, the more people who attend the less learning takes place. We value our reputation for quality more than the idea of short-term income!

*where an existing broadband connection exists